Our work is born from the handling of materials. Pieces begin to take shape when we start playing with materials; materials tell us the extent to which they can and want to be transformed. Our objects are born from this playful experience, from the bent shown by these materials. The Favela chair, for instance, expresses a carefree way of making a chair, from scraps of wood, without following any rules or adhering to a Cartesian plan.
The one constant in our work is an eternal search for materials capable of surprising us and renewing our work.
We build casually; we like to play with chance, to dabble with deconstruction. But there is still a rational thought, a logical idea, behind it all. In one of our most recent projects, the TransPlastic series, we look into the nature of materials, marrying manmade elements with natural handcrafted ones: nature and plastic.

This is an evolution, but with a more mature and more objective vision of what we want, of a study, called the Mixed series, that began in 2000 and originated the Shark Chair (2000). Curiously, the liana, a natural fibre we use to make the TransPlastic series, grows on the trees of the Amazon forest, suffocating them and stunting their growth. The liana is an analogy of this particular line of work; the wicker starts to grow from the plastic, suffocating it and obtaining nourishment from it.
Humberto Campana

Jenette chair, by the Campana brothers, formed by a back consisting of 900 flexible PVC bristles (Edra, 2005).
The work of the Campana brothers stems from a process of transformation and reinvention; from the construction of a new world with discared materials, manipulating the objetcts that surround us everyday life. The result is an immensely creative work instilled with the spirit of their native land, Brasil: energy, poetry,colour and hybrid forms.

Campane di Campana. Playing with the Italian (and Spanish) meaning of the Campana surname, Moss Gallery set in motion a collaboration project between Campana studio and Venini glaziers in Venice. The curtain wall of unique mouth-blown crystal bells that resulted from this alliance was installed at Moss Gallery, New York, 2005.
Action design, which echoes the expression used in the world of art, is a good term to describe the work of the Brazilian brothers Fernando and Humberto Campana—the former, an architect; the latter, an artist with a degree in law behind him and an increasingly sought after designer in international circles. The exponential success of the Campana brothers arises from their personal approach to design. Rather than "design", though, it might be more appropriate to refer to their way of "making things", since Fernando and Humberto do not really design (they only make doodles to "fix" their ideas) but create objects, constructing them with their own hands using unexpected combinations of discarded materials found while exploring the streets of the city where they live.

Chair and armchair belonging to the Leatherworks collection, Edra, 2007. In this design, the Campana brothers chose leather to create a product that bears witness to their interest in waste materials. Leatherworks is the result of a seemingly casual and chaotic layering of pieces of embossed leather in different grains stamped with patterns and assembled in a meticulous work of craftsmanship.



One of the preliminary sketches made by the Campana brothers.
Accordingly, their objects start taking shape as they are being put together, piece-by-piece, as in the case of Favela, the chair made with the same scraps of pinewood used to build slum housing, or knot-by-knot, as in Vermelha, the armchair built with 400 metres of brightly coloured cord tied and weaved through a metal frame.

Favela chair, constructed piece-by-piece in 1991 from the same scraps of pinewood used to build the slum housing on which it is inspired.
The temporary store they designed for Camper in Berlin is fruit of their work on site. On 1 December 2006, during a lecture given at ADI-FAD's headquarters in Barcelona to present Aster Papposus and Kaiman Jacaré, the sofas they designed for Edra in 2006, the brothers told the story of how they came up with the idea for their Camper store. First they flew to Berlin to become familiar with the city. There they explored it, observed it and photographed it. They noticed the graffiti and advertising on the walls of the old industrial complexes now tenanted by artists and designers: public written statements, manifestations bearing witness to passing lives and events.
Vermelha armchair first produced by Edra in 1998. It is built with 500 metres of bright red cotton cord hand-tied and weaved through a metal frame.
They realised that Berlin is a city in which it is still possible to leave a mark other than an advertising
hoarding, in which the climate fosters self-expression that is not subservient to structures and institutions; and they decided to replicate this in Camper's temporary store. Taking their cue from the tonality of Berlin, which the brothers breathed in and absorbed, and the capacity to be amazed which always accompanies them in their explorations, they gave birth to "Torn Leftovers", a space assembled with cheap recycled materials, capable of conjuring up an image—that of the sediments of life similar to that evoked by several other Berlin shops, particularly in the Mitte quarter, which have been renovated through a highly personal and creative recuperation and transformation of the original.

Torn Leftovers, Camper store in Ku'Damm, Berlin, 2006. Part of the temporary store project thought up by the Majorcan firm. In this case, the Campana brothers covered the walls of the premises with old advertising hoarding proofs (paper used for colour calibration in printing machines which is then thrown away) cut up into random sheets and stuck on the walls to create a scale effect that can be touched by customers.
An action design, then, contrived to allow a space and its objects transmit the idea of a one-person performance and to let individuals and stories show through the design of things. These designers are best described by their objects, rather than their words. Their work is not suited to the type of critical jargon that analyses an item by extracting it from its context, as if it was in a photographer's limbo. Their creations are inseparable from Brazil. Each of Plato's dialogues happens in a specific setting. Phaedras's conversation, for instance, takes place on the bank of a river, surrounded by water, trees and grass. It is not merely a case of two people communicating, but of two individuals standing in a specific place. It is the place that gives consistency to the beauty and love which the two characters discuss.

Café chair, part of the TransPlastic collection, 2007.
"Place, the spirit of a place," says James Hillman (Il piacere di pensare, conversazione con Silvia Ronchey, Rizzoli, Milan, 2001), "affects love directly." In the case of the Campana duo, it occurs to me that "place affects creativity." It is the soul of the city of Sao Paulo, of the forest, of the earth, of Brazil's generous and impetuous nature that shapes the story of their objects. It is an epic story, as all accounts are in the southern hemisphere. In the northern hemisphere stories are chronicles: events are linked to the decisions made in a world of hyperchoices, not of survival, which gives each act and object a definite, almost sacred, value.
Sushi IV armchair, part of the Sushi collection created in 2002 and 2003. This model is formed by felt strips of different bright colours rolled into concentric rings on a welded iron structure.
Our history has not been fully written down, so individuals can still write their own versions
The designs developed by these brothers continue being epic recitals even when they are mass produced by Italian companies. Their objects reveal their tie to a local material culture which, according to Marc Augé's definition, is "at once collective and individual (linked to fate, life and personal concerns) and is therefore a living culture, practised with an alimental, social or religious end." (Finzioni di fine secolo seguito da Che cosa succede? Bollati Boringhieri, Turin, 2001). There is, in their designs, a "state of grace" which the great Brazilian writer Clarice Lispector defined as the "lucidity which does not need to guess: it knows. Just like this, it knows." (A descoberta do mundo [Discovery of the World]. Nova Fronteira, Rio de Janeiro, 1984). And yet, the Campana brothers are not alien to the market's global system, nor do they give the impression of being ethnic or folkloric. Their designs, to use Ralph Darhendorf's term, are "glocal", i.e. culturally compatible with both the local and the (healthy) global. And they evince better than words the vindication of the local over the perverse global, with its commercial colonisations which produce a new slavery to brands, showing how the energy and poetry of things can arise from the most deeply rooted attributes of a place.

Banquete Alligator and Banquete, made with stuffed animals in 2002.
Fernando and Humberto Campana, who can almost be said to reside in Italy owing to their ongoing collaboration with Edra, continue being Brazilian to the core and express the Brazilian genius loci with "lucidity". "We are children," they say. "Our country is young; it is only five hundred years old. It is as the beginning of its rising parabola. Yours has come to its end. Hence our zest for life and creativity. In Brazil, despite the country's many problems, people are happy because there is a world waiting to be built. Our history has not been fully written down, so individuals can still write their own versions. And these histories can be manifold and diverse, because of the diversity of Brazil's mixed soul. Cultures are varied and their codes accessible. Our freedom and our anarchy arise from this plurality. We have a long road ahead of us; this is why we are relaxed and create in a natural way, free from pressure and anxiety."
Though familiar with the industrial logic of the "north", Fernando and Humberto have not lost their strong links to their land, their dreams, their self-assured and delirious creativity. Their work stems from a lack of structures, a sublimation of the art of "getting by" that is a prerequisite of survival. Fernando and Humberto have been working together for nearly twenty years, since they chose to design furniture as a means of expression. Their radical vision of furniture came to the fore in 1989, during their first exhibition at Galería Nucleon 8 in Sao Paulo, where they presented the so-called "Uncomfortable" series: tables, folding screens and chairs made of unfinished metal sheet which, as the name of the collection implies, were not designed to bring comfort to users.
Sofá Boa, (Edra, 2002), made from 90 metres of velvet upholstered tubular filled with elasticised polyurethane.
Employing unprocessed materials and experimenting with all kinds of modest recycled materials is their way of opposing the commercial colonisation of the north and its preconceived notions, which make desirable only the items shown in European shop windows. With their hybrid, sometimes primitive, forms they try to express the contradiction found in urban chaos. They take inspiration from the vitality of the indigenous expressions around them to endow their objects with an authentic character, linked to the spirit of the people of the place. It is a sensual, magical and uninhibited character, like that of the Brazilian people, who are not embarrassed by their body; on the contrary, they display it ostentatiously, regardless of its imperfections, and face life with the nimbleness of a samba dancer, having little to lose and much to gain. A character that differs from the asexual and dematerialised nature of European design products, whose blood has run cold—in the already old and tired civilisation of consumption, emotions have dried up as life has become something that is suffered rather than fought for. Their designs still have the energy of things that burn, which denounce, like their first carbonised pieces of furniture, a warning against the destruction of the Amazon jungle.

Two Boa offshoots, Aster Papposus y Kaiman Jacaré, both manufactured by Edra, 2006.
When they construct their pieces of furniture, the Campana brothers walk the fine line between art and design as a result of need, not of aesthetic choice: their objects are begotten one by one and made by hand—theirs and those of the slum children who through this manual work are redeemed, saved from petty thieving, for unlike Italy, Brazil does not have a large network of companies capable of manufacturing their prototypes industrially or traditionally. They experiment with all the humble materials they find, materials which are never used to produce furniture, such as string, wire and PVC thread, with which they weave complicated fabrics, tinplate, bubble plastic and pressed cardboard, and they invest their objects with dignity through patient craftsmanship. With eyes trained to look beyond coded appearances, they explore all possible options, resurrecting ordinary materials for improbable and poetic uses. The words of Annemarie Sauzeau Boetti about Alighiero Boetti are well suited to this vision of street objects: "exploring with happy voracity the basic phenomenology of the most trivial materials, of pre-objectual things" (Annemarie Sauzeau, Alighiero e Boetti, Shaman/Showman. Umberto Allemandi, Turin, 2001).
"We work with our hands—they say—to express a particular territorial character, to endow our objects with the diversity that derives from imperfection and the lack of homogeneousness that is a hallmark of hand-made objects, the unique and precious 'something' that stems from the manual, and to avoid the 'pasteurisation' of design which leads all artists to make the same objects for want of originality and daring. From the outset we have always represented our universe. Creating is our way of life. When we were young we had very few things, so we dreamed and created a lot. Humberto built houses on tree tops and together we built damns to alter the course of the river that flowed behind our farm. It was a metaphor of our desire to change the tranquil course of everyday life. Our designs—they go on—were born in the street, from the urban kitsch of the popular quarters and from contact with nature. Whenever we can, we go back to our farm. Nature revitalises our ideas. We design as we walk across the fields and plant trees. It is essential to plant indigenous trees to be in direct contact with nature, to keep alive our links with the specificity of the place." Working with their hands enables them to make those "transferences" that denounce and invert traditional canons.

Blow Up Collection fconsisting of objects assembled with off cuts of steel wire welded together to form different types of containers and tables (Alessi, 2004).
Their work shows how the southern hemisphere can inject new energy into contemporary design. The farther (perverse) globalisation advances, turning products into homogeneous and civically anonymous items, the more necessary it is to reinstate the value of local traditions. By rooting their design in the nature of Brazil, the Campana brothers advance a new idea of modernity consisting not only of innovation, but also of irreverence, technology blended with the artisan tradition, high tech materials married with humble ones. Their hand-made objects are neither archaic nor rudimentary; quite the opposite, they seem futuristic and pregnant with fate, the kind of fate that promises happiness to those used to precautions and programmes, and embodies the dream of still possible utopias, such as that of being as carefree and wise as children when we are grown-up. The Campana brothers are calm, wise men, but they have not lost the child's capacity to be astonished, that same awe which characterised Lina Bo Bardi, the Italian architect/artist who moved to Brazil and brilliantly captured the essence of that country in her art. Each of their designs is born of simple, basic acts: weaving, knotting, coiling. Despite this, they astound because these regular acts of savoir faire are linked to unusual, humble recycled materials.
Nuveum Collection, produced by Alessi since 2006.
Theirs are not only objects, "but shapes that beg to be seen no matter what, that force their way to be recognised in a sea of shapes" (Fulvio Carmagnola, Vezzi insulsi e frammenti di storia universale. Luca Sossella, Rome, 2001). They are epic accounts because they talk of the art of survival, because they bear witness to a resurrection. Like the trav-elling storyteller in Mario Vargas Llosa's novel who kept the oral tradition alive in the Amazon jungle, they narrate stories through design. "We come to Italy," they conclude, "but we always leave to recover the distance that enables us to have a separate viewpoint and propose different reading codes."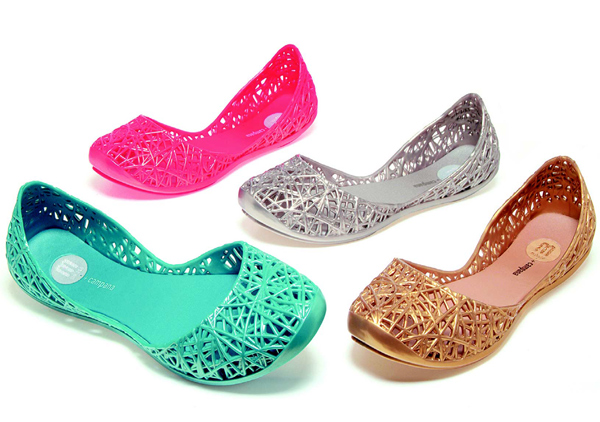 Melissa + Campana Zig Zag Collection. The Campana brothers designed this summer collection of women's shoes in 2004 for Brazil's Melissa brand. Like all of Melissa's collections, it was made entirely out of rubber. Its success in the marketplace led to the development of a new collection in 2005, Carioca, inspired by the texture of the Favela chair.
Many of their designs—those featured in international design shop windows—are produced and distributed by Edra, a company based in Tuscany that is representative of the industrial fabric formed by the small and medium-sized companies that concentrate in different regions of the country depending on their specialisation.
It is a family-owned business with a small factory used to produce sofas, willing to make good use of the resources of the national territory to create innovative designs and backed, in the difficult task of producing a design of quality, by creative director Massimo Morozzi, a member of the Archizoom group and a historic exponent of radical architecture. Thanks to the flexibility of its dynamic structure and a strategic project aimed at creating a collection whose homogeneousness derives from the harmonious composition of very different expressions, Edra has "wedded" the design of the Campana brothers, industrialising it without depriving it of the fascination of the hand-made, conserving its halo of genius loci and avoiding drifting towards the ethnic.
White Corallo armchair (Edra, 2006). The first version of this chair (produced in 2004) forms part of the permanent collection of the New York MoMA and the Montreal Beaux Arts Museum.
Edra and the Campana brothers exemplify what Francesco Morace calls the hummingbird strategy (La strategia del colibrì, la globalizzazione e il suo antidoto. Sperling&Kupfer, Milan, 2001): "on the one hand there is the hummingbird (Edra), efficient and creative, increasingly capable of swiftly flying from one inspiration to another; on the other, the flowers (Campana brothers), local cultures, increasingly capable of generating unique and at the same time universal stimuli, i.e. rapidly globalising thanks to their capacity to attract." The humble begets the precious, all the more extraordinary for having been made out of nothing, or, better still, for being the fruit of a simple idea that only 'happy' people still know how to cultivate, from the state of grace that is the "lucidity which does not need to guess: it knows." The design of the Campana brothers fits in well with the definition of design made by Marc Augé in Finzioni de fine secolo (idem): "it can go back to the past or be extrapolated to the future, it returns to the local or combines the exotic, it takes root or flight, opening in science fiction paths of escape towards a still improbable encounter and designing with elegance figures that suggest new forms for the imagination."
Published in Experimenta 58