Smart introduces escooter, a new solution for urban mobility on two wheels. Hub drive, design, eco-compatibility and a smartphone connection are the main characteristics of an innovative product that lives up to the image of its manufacturer.
The design recurs to the strongest features of the Smart Fortwo technology; manoeuvrability, ergonomics, efficient use of space and reduced dimensions make of escooter an intelligent and responsible proposal that allows agile mobility in city traffic.
The electric scooter is driven by a 4kW hub motor powered by cutting edge technology lithium-ion batteries on the rear wheel. This feature added to the energy generating brake system and front positioned solar panels, guarantees a 100 kilometre autonomy. Charging is possible with the use of a standard household socket.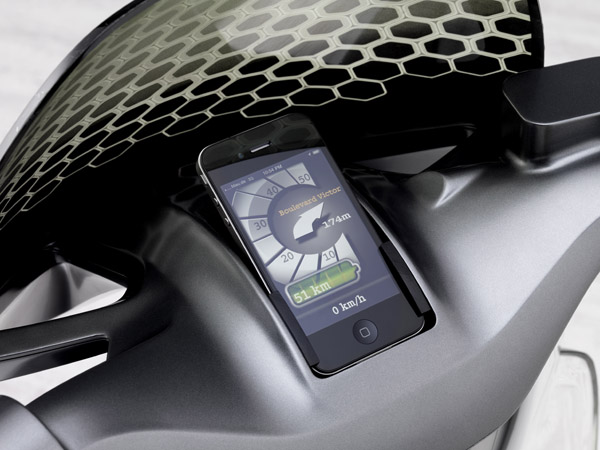 Safety is an essential feature, with ABS on both wheels, an Air Bag underneath the front panel and a Blind Spot Assist system that allows drivers to spot close range vehicles otherwise invisible on the rear-view mirrors.
As in the Smart Fortwo range, the steel and aluminium frame is clad in fully interchangeable plastic body panels that define the personality of the only smart scooter in the market. The Escooter integrates a smartphone for the smart drive kit application with a specially designed mount, and is fully linked to serve as the vehicle´s control and communications centre, acting as speedometer, starter and immobilizer (including an anti-theft device), navigation system and displaying range and battery charge levels. Additionally, the "GPS Tracking" smartphone application will help users track down their escooter if they forget where they parked and remotely control the handlebar heating feature.