The Faustino wine group has asked Pritzker prize winner Norman Foster to design their new Portia wine installations in the Ribera del Duero region. It is composed of three distinct volumes in the shape of a clover, each representing one of the three basic stages of wine production, and a central operations area.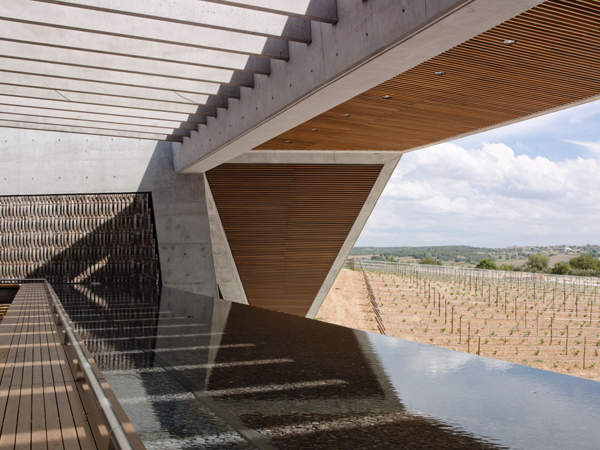 Entrance and views from the Portia wine installations.

These different phases define the materials that are used in the building: fermentation in steel tanks, maturing in oak barrels and ageing in glass bottles. This provides character to a cellar that has been exclusively designed for the elaboration of wine in prime conditions.
The Portia cellar
Foster + Partners strategically situate the Portia installations on the side of a hill to exploit the orographic features for technical purposes.
The wings where the barrels and the bottle racks are situated are therefore partially underground to favour the correct ageing of the wine, whereas the fermentation wing is totally exposed to allow the free liberation of carbon dioxide.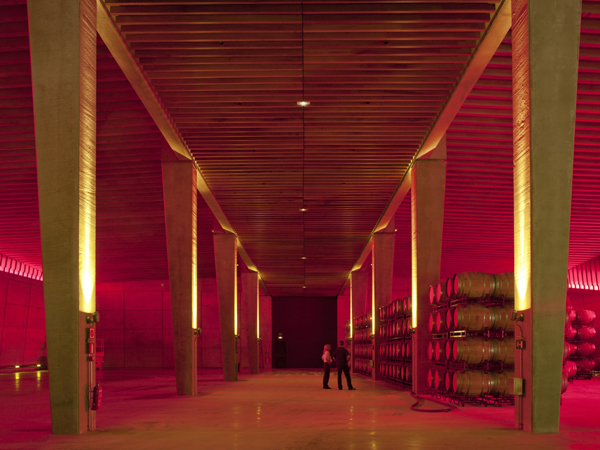 Barrels room and view from the gallery from the second floor.

A road leads up to the top of the building to allow direct introduction of recollected grapes into the corresponding tanks and chutes. The cellar has been designed to take advantage of the slope of the hillside to shift the raw material using gravity thus favouring maximum efficiency and minimum grape damage.
The use of gravity in the production of wine has recently become crucial in an attempt to bring back natural elaboration processes that avoid the use of pumps to transport wine within the cellar.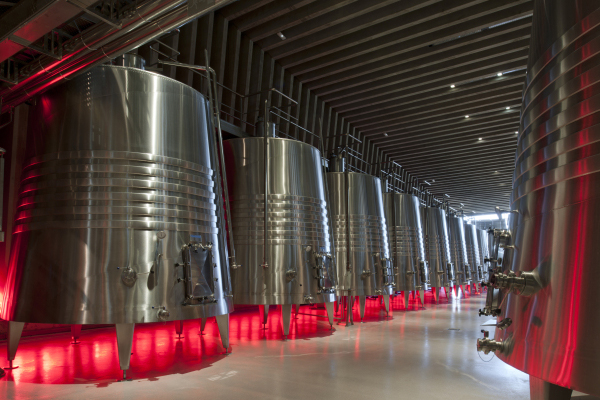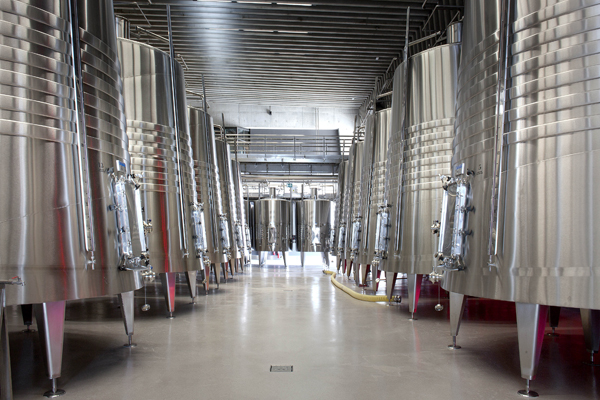 Fermentation tanks.
The second floor includes the entrance and access to the cellar as well as housing the office area, wine tasting area and a glass window that overlooks the wine producing installations. The trafficable roof allows vehicle access for unloading.
The reinforced concrete is covered with corten steel plates and has an overall usable surface of 12.500 metres.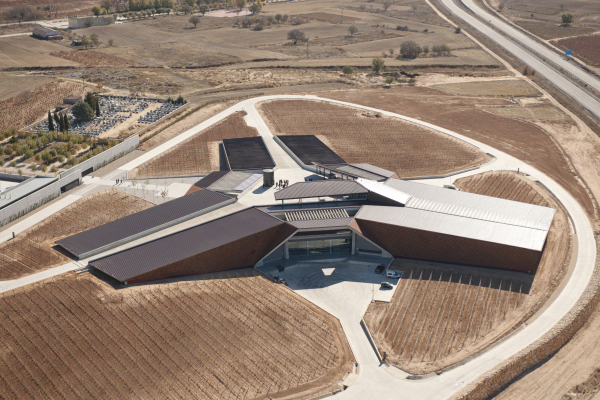 Aerial view of the Portia wine cellar.
Drawing of Portia's wine cellar, Gumiel de Izan, Ribera del Duero, España.
Client: Bodegas Faustino SL
Building dates: Agosto 2006 – Septiembre 2010
Architect: Foster + Partners
Design team: Norman Foster, David Nelson, Gerard Evenden, Pedro Haberbosch, Nadine Pieper Bosch, Ana Agag Longo, Juan Gabriel La Malfa,
Luca Latini, Chris Lepine, Emanuele Mattutini, Josep Mercader,Jaime Valle,
Structure, and mechanic and electric installation: Arup
Local Architect: Prointec